Interactive Role-playing
to Improve Proposal Presentation Skills
90% of Users Realize Self-growth
through Realistic Learning
"SimStorm" is an e-learning system to simulate interactions with doctors on video. Allowing learning in a virtual environment with a sense of reality, regardless of the place, this system is perfect for the present time when remote work is progressing. It makes use of a multi-scenario, where the story branches according to your choice, and you can work on it like a game. When you finish the role-play, your score will be displayed. As you play repeatedly with the aim of increasing your score, you will naturally acquire sales strategies, including those to make your company's products more appealing.
We Create Perfect Situations
for Your Company
After you have learned the basics of marketing, we offer a variety of options to allow your skills to take root. The feedback we provide through follow-up lectures, small-group discussions, individual coaching and correction of your brand plan will help you continuously brush up your skills, and these presentations and discussions will lead your brand plan to completion.
We Also Conduct Assessment Using Attendance Data
Our system logs all data, including the number of plays, play time, and correct answer rate, for each participant. We also analyze these data with categorization based on the sales office or years of employment, for example, to clarify commonalities, tendencies, and points to be strengthened.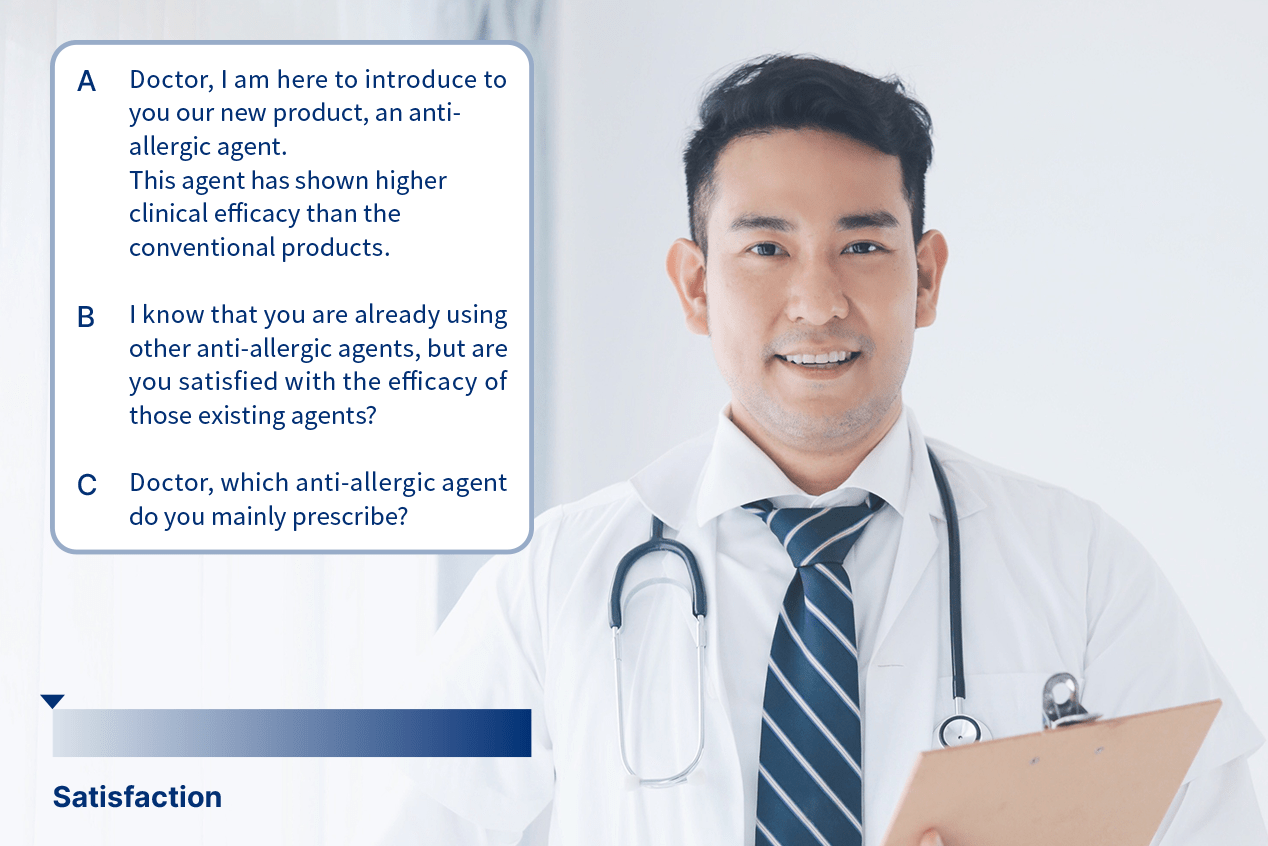 CUSTOMER REVIEWS
During the simulation, when I didn't give the answer the doctor wanted, he got angry with me, which was very realistic and surprising.
– MR at a medium-sized domestic pharmaceutical company
I could visualize the information the doctor was looking for and the content of the answers, including the sequence of events, and I learned a lot from this experience. It was easier for me to absorb the knowledge than studying on my own.
– MR at a major foreign pharmaceutical company
I found this method more practical than others, and very useful, especially because of the fact that it allows repetitive learning.
– Training director of a medium-sized foreign pharmaceutical company